Samsung Series 4 80cm (32 inch) HD Ready LED Smart TV Samsung
This Post might contain Affiliate links. These links help us to earn some commission on your purchase without charging you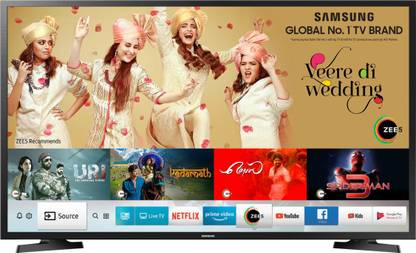 Features
In The Box: 1n LED tv,1n Power Card,2n Battery-Alkaline(AAA size),1n Remocon.1n Stand Bottom,1n DC
Model Name: UA32N4305ARXXL
Color: Black
Display Size: 80 cm (32)
Screen Type: LED
HD Technology & Resolution: HD Ready, 1366 x 768
3D: No
Smart TV: Yes
Curve TV: No
Series: Series 4
Touchscreen: No
Motion Sensor: No
HDMI: 2
USB: 1
Wi-Fi Type: 802.11 ac dual band
Built In Wi-Fi: Yes
Launch Year: 2019
Built In Wi-Fi: Yes
3G Dongle Plug and Play: Yes
Ethernet (RJ45): 1
Other Internet Features: Content Guide, Content partners like Netflix, Prime video, ZEE5 and many more, Personal computer, Live cast, App store, App lock, Child lock, Smart Hub
HDMI: 2 Side
USB: 1 Side
NFC Support: No
Picture Engine: Hyper Real
Digital Noise Filter: Yes
LED Display Type: Direct
Aspect Ratio: 16:09
Refresh Rate: 50 Hz
Other Video Features: Mega Contrast, PurColor, Micro Dimming, Different Picture Modes - Dynamic, Standard, Natural, Movie
Number of Cores: 4
Processor: Quad-Core
Graphic Processor: Mali 400 MP4
Ram Capacity: 1.25 GB
Supported App - Netflix: Yes
Supported App - Youtube: Yes
Supported App - Disney+Hotstar: Yes
Supported App - Prime Video: Yes
Operating System: Tizen
Screen Mirroring: Yes
Bluetooth: Yes
Number of Speakers: 2
Speaker Type: Stereo
Sound Technology: Dolby Digital Plus
Surround Sound: Stereo Sound
Speaker Output RMS: 10 W
Sound Mode: Different sound modes - Amplify, Standard, Optimize
Power Requirement: AC 100 - 240 V, 50/60 Hz
Power Consumption: 48 W, 0.5 W (Standby)
Width x Height x Depth (without stand): 73.74 cm x 43.8 cm x 7.41 cm
Weight (without stand): 3.8 kg
Width x Height x Depth (with stand): 46.54 cm x 15.05 cm
Weight (with stand): 3.9 kg
Stand Type: Table Top
Warranty Summary: 1 Year Comprehensive and 1 Year Additional on Panel from Samsung
Covered in Warranty: Defect Arising Out of Faulty or Defective Material or Workmanship
Not Covered in Warranty: Warranty does not Cover Any External Accessories (Such as Battery, Cable, etc.). Damage Caused to the Product due to Improper Installation by Customer. Normal Wear and Tear to Magnetic Heads, Audio, Video, Laser Pick-ups and TV Picture Tubes, Panel Damages Caused to the Product by Accident, Lightening, Ingress of Water, Fire, Dropping or Excessive Shock. Any Damage Caused due to Tampering of the Product by an Unauthorized Agent, Liability for Loss of Data, Recorded Images or Business Opportunity Loss
Warranty Service Type: Technician Visit
Installation & Demo Details: We'll facilitate the installation and demo through authorized service engineer at your convenience.. The service engineer will install your new TV, either on wall mount or on table top. Installation and demo are provided free of cost. The engineer will also help you understand your new TV's features. The process generally covers: Wall-mounted or table-top installation, as requested. Physical check of all ports, including power and USB ports. Accessories also checked. Demonstration of features and settings. Quick run-through on how to operate the TV
Description
You can now turn this Samsung Smart TV into a full-fledged PC or your very own virtual music system. With features such as Live Cast and Screen Mirroring, you can have some good times with your family right at home. The Micro Dimming Pro feature lets you catch all the action on the big screen.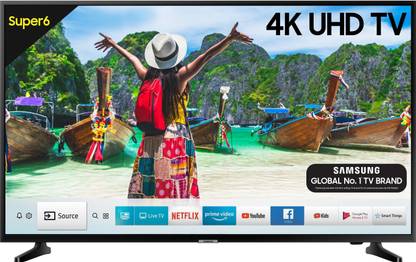 Samsung Super 6 108cm (43 inch) Ultra HD (4K) LED Smart TV, Samsung
Features
In The Box: 1N LED TV, 1N POWER CORD, 2N BATTERY-ALKALINE(AAA SIZE),1N REMOCON,1N STAND-LEFT,1N STAND-RIGHT
Model Name: UA43NU6100KXXL / UA43NU6100KLXL
Color: Black
Display Size: 108 cm (43)
Screen Type: LED
HD Technology & Resolution: Ultra HD (4K), 3840 x 2160
3D: No
Smart TV: Yes
Curve TV: No
Series: Super 6
Touchscreen: No
Motion Sensor: No
HDMI: 2
USB: 1
Built In Wi-Fi: Yes
Launch Year: 2019
Built In Wi-Fi: Yes
Ethernet (RJ45): 1
HDMI: 2 Side
USB: 1 Rear
LED Display Type: Direct LED
Refresh Rate: 60 Hz
Supported App - Netflix: Yes
Supported App - Youtube: Yes
Supported App - Disney+Hotstar: Yes
Supported App - Prime Video: Yes
Operating System: Tizen
Screen Mirroring: Yes
Number of Speakers: 2
Speaker Output RMS: 20 W
Power Requirement: AC 100 - 240 V, 50/60 Hz
Power Consumption: 125 W, 0.5 W (Standby)
Width x Height x Depth (without stand): 970.2 mm x 58.8 mm
Warranty Summary: 1 Year Comprehensive and 1 Year Additional on Panel from Samsung
Covered in Warranty: Defect Arising out of Faulty or Defective Material or Workmanship
Not Covered in Warranty: Any external accessories (such as battery, cable, etc.)Warranty does not coverAny damage caused due to tampering of the product by an unauthorized agent, liability for loss of data, recorded images or business opportunity loss.Damage caused to the product due to improper installation by customerNormal wear and tear to magnetic heads, audio, video, laser pick-ups and tv picture tubes, panelDamages caused to the product by accident, lightening, ingress of water, fire, dropping or excessive shock
Warranty Service Type: Technician Visit
Installation & Demo Details: Please note that any unauthorized handling or self-installation of the product will lead to return & product warranty being voidWe'll facilitate the installation and demo through authorized service engineer at your convenience.. The service engineer will install your new TV, either on wall mount or on table top. Installation and demo are provided free of cost. The engineer will also help you understand your new TV's features. The process generally covers: Wall-mounted or table-top installation, as requested. Physical check of all ports, including power and USB ports. Accessories also checked. Demonstration of features and settings Quick run-through on how to operate the TV.
Description
Indulge in the brilliance of real 4K (3840 x 2160) resolution by bringing home this TV from Samsung. Not only does this TV let you mirror the contents of your smartphone, such as images and videos, on its screen, but it also lets you enjoy some lag-free gaming in case you get bored of watching...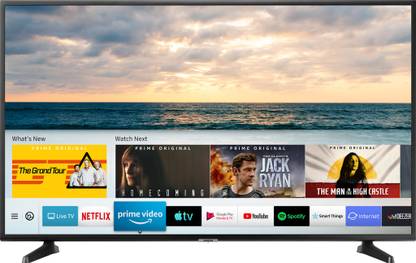 Samsung 125cm (50 inch) Ultra HD (4K) LED Smart TV, Samsung
Features
In The Box: 1N LED TV, 1N POWER CORD, 2N BATTERY - ALKALINE (AAA Size), 1N REMOCON, 1N STAND-LEFT, 1N STAND-RIGHT
Model Name: UA50NU7090KXXL
Color: Black
Display Size: 125 cm (50)
Screen Type: LED
HD Technology & Resolution: Ultra HD (4K), 3840 x 2160
3D: No
Smart TV: Yes
Curve TV: No
Touchscreen: No
Motion Sensor: No
HDMI: 2
USB: 1
Built In Wi-Fi: Yes
Launch Year: 2019
Built In Wi-Fi: Yes
Ethernet (RJ45): 1
HDMI: 2 Side
USB: 1 Side
Panel Type: A+
LED Display Type: Direct LED
Refresh Rate: 60 Hz
Supported App - Netflix: Yes
Supported App - Youtube: Yes
Supported App - Disney+Hotstar: Yes
Operating System: Tizen
Screen Mirroring: Yes
Number of Speakers: 2
Speaker Output RMS: 20 W
Power Requirement: AC 100 - 240 V, 50/60 Hz
Power Consumption: 140 W, 0.5 W (Standby)
Width x Height x Depth (without stand): 112.48 cm x 65.02 cm x 5.97 cm
Width x Height x Depth (with stand): 69.28 cm x 24.21 cm
Warranty Summary: 1 Year Comprehensive and 1 Year Additional on Panel from Samsung
Covered in Warranty: Defect Arising Out of Faulty or Defective Material or Workmanship
Not Covered in Warranty: Warranty does not Cover Any External Accessories (Such as Battery, Cable, etc). Damage Caused to the Product due to Improper Installation by Customer. Normal Wear and Tear to Magnetic Heads, Audio, Video, Laser Pick-ups and TV Picture Tubes, Panel Damages Caused to the Product by Accident, Lightening, Ingress of Water, Fire, Dropping or Excessive Shock. Any Damage Caused due to Tampering of the Product by an Unauthorized Agent, Liability for Loss of Data, Recorded Images or Business Opportunity Loss
Warranty Service Type: Technician Visit
Installation & Demo Details: We'll facilitate the installation and demo through authorized service engineer at your convenience.. The service engineer will install your new TV, either on wall mount or on table top. Installation and demo are provided free of cost. The engineer will also help you understand your new TV's features. The process generally covers: Wall-mounted or table-top installation, as requested. Physical check of all ports, including power and USB ports. Accessories also checked. Demonstration of features and settings. Quick run-through on how to operate the TV